In a world where everything is digital and social media has become a big part of everyday life, employee advocacy is essential. While employees are often only seen as "the people who work for the company," they are actually one of the most powerful marketing tools a company can have. Employee messages reach more organic reach on average than messages shared by the company itself. This can lead to 8 times more engagement.
In fact, a message shared by employees extends a whopping 561% further than a message you share from your company account.
Time to get acquainted with employee advocacy.
What is employee advocacy?
Employee advocacy is a term used to describe the visibility that employees generate for the company they work for. In general, employee advocacy is achieved through social media. Other online resources can also be used for this. Think of email, forums or even word of mouth.
The goal of employee advocacy is often a wider reach on social media, such as LinkedIn. However, wider reach doesn't have to be the sole goal of employee advocacy. It offers opportunities for corporate companies to stimulate recognition, attract organic traffic, generate new leads or recruit new potential employees. For recruitment agencies you can not only recruit new candidates through employee advocacy, but also win clients for you. And all through the voice of the employees.
Employee advocacy provides opportunities for employees to grow their professional network, develop meaningful connections and advance their careers.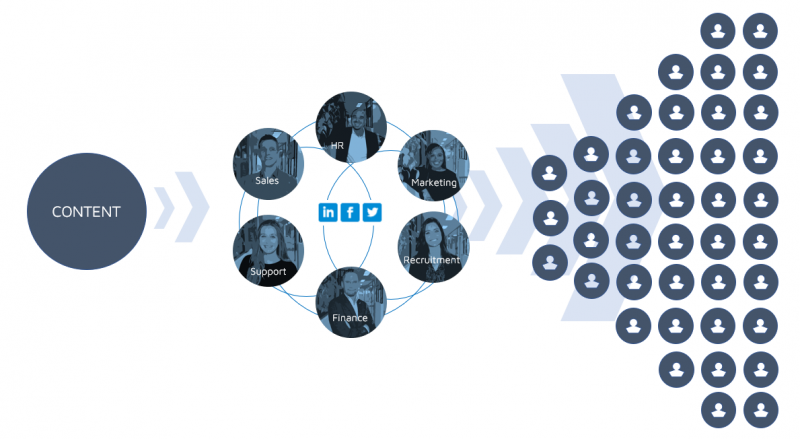 How do you start with employee advocacy?
Employee advocacy therefore not only gives a boost to job market communication, but can also be used in sales and PR areas. So plenty of opportunities, but where do you start?
Your employees are the best ambassadors
Make sure your employees are proud of your company. To do this they need to know what the company stands for. What are the mission, vision and goals of the organization? Also the tone of voice, font, colors and logo contribute to this joint pride for a company. So make sure this is continuously visible. In addition, it is easy to provide your employees with a standard "toolkit" that they can use to adjust their (professional) social media accounts to the corporate identity of your company. This toolkit may include special LinkedIn banners, profile photo overlays, or photos that can be used when sharing content.
From employee to social influencer
Part of employee advocacy consists of sharing content by your employees. Therefore, provide inspiring content. Employees are more likely to show off the company-made lunch, fun team outings or socializing in the office. So make sure the content is fun and appeals to your employees. This increases the chance that your employees will continue to share your content.
Internal recognition
Now that enough inspiring content has been collected to bring out the collective pride of your organization, it is important not to forget your employees. They now post it, but what do they get in return? In order to continue to motivate your employees, it is important to show them what their contribution is. How much reach has a particular post generated and how much engagement has this generated? In addition, consider good incentives that motivate employees to participate in your employee advocacy program. How about a tool like HireUp. HireUp is an employee referral tool, which allows employees to share open vacancies with their network via their favorite social media channel. Automated notifications provide employees and candidates with real-time updates. This so-called "gamification" strengthens your employee advocacy and makes it fun for your employees.
A good balance in content
Write company content so that it can be easily personalized by employees. Do you work as a recruiter and do you often share vacancies? For example, making the first sentence personal makes the mail completely different. Employees can also share (news) messages from the industry in which the organization operates. If your company is more advanced in your employee advocacy program, you can ask your employees to provide content themselves, such as a blog or a vlog.
Creating a strong personal brand and implementing an employee advocacy program takes time. It is a process in which investments must be made continuously. But with good planning, training and clear content, your employee advocacy program can easily provide the best and most effective Marketing, HR and sales tool.