What you are looking for must match with what is available
"Our clients often already have a full picture of the candidates they are looking for," begins Franklin van den Brand, partner at Westmore. "Customer demand arises
the moment something has to be built or made. Based on these projects, the customer knows what they will need in terms of people to execute them. Or someone has left the organisation, and they are looking for a replacement in the form of a candidate with exactly the same specialised profile. With this in mind, the client draws up a vacancy, publishes it on the website and waits for the applicants to come in. Of course, we understand why they do this, but we notice that this approach does not produce the desired results in the current job market".
Lead generation and market analysis in Carerix
Since switching to Carerix in 2018, Westmore has started to look differently at the possibilities of applying automation in order to stay ahead of the rapid developments in the job market.
"Carerix is our base in which we use different products from Carerix's partner network. It helps that they make these integrations and that we have choices in the tools that fit well within our work process.
One of these products is Jobdigger Insights. This tool combines the research data from Intelligence Group. On the one hand it provides insight into the online job market and into the candidate market on the other. When you compare this data you can clearly see the gap between supply and demand."
"With the integration of Jobdigger Insights we can gain insight into the vacancy market from a candidate profile and examine the best options together with the candidate. The candidate then only has to register with one agency, which is very convenient ;-).

On the clients' side, we have insight into which vacancies are currently active, for how long and whether there is a certain pattern on an annual basis. The latter helps us to gain insight into our clients, so that we know when we can contact them "warmly" and, if necessary, anticipate the recruitment process".
With the tool integrated into the Carerix application, the relevant data is shown for each file. For example, work from the candidate file and search for an assignment, suitable client or make an analysis about the target group and client.
Have you found an interesting vacancy? Then you have the possibility to create the vacancy directly in Carerix, together with the client and the contact person.
Looking from the outside in
"In Jobdigger we also see why the vacancy cannot be filled. For example, candidates with an MBO level 4 diploma in Electrical Engineering are requested. In the market analysis we perform from the vacancy file, we see that this specific profile is very scarce. We then talk to the client and ask: how can you make it as attractive as possible for someone in the same position to make the switch? What are the motivations or 'pull factors' that this target group finds important in order to make the switch?
Having a conversation with a client based on data ensures that together we can look at their search query differently. A candidate with level 3 perhaps? We offer guidance and training on this at Westmore. We also help to rewrite the vacancy in order to reach, for example, a candidate with a level 3 MBO diploma.
We help our clients to look from the outside in. How does a latent searcher or someone who is currently well placed look at a recruiter and the "fantastic opportunity" he offers without knowing what a candidate wants?"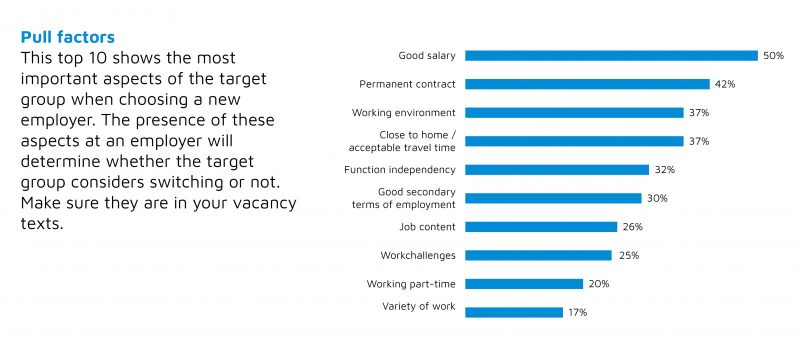 Creating content
"After a brainstorming session with the client we actively search for and create campaigns to recruit the right target group. We ask questions about how we can raise interest in a simple way and get the talent to commit to us.
For this, too, we use Jobdigger's data and create content that matches the pull factors from the analysis. We share knowledge that is of use for them. We put ourselves in the shoes of our target group. Because most Westmore employees come from a technical background, we can easily put ourselves in the position of our target group".
"All activities such as website visits, clicking through mails or viewing a social media campaign are seen by our account managers in Carerix. This is complemented by our marketing automation tool Sharpspring. In such a funnel that starts with a campaign on, for example, Facebook or Linkedin, you might need 800 candidates to get to 10 matches. By automating a large part of this process, it definitely pays off to launch such a campaign".